'Negative' Sheffield Predators team name changed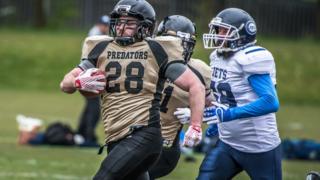 An American football team in South Yorkshire has changed its name due to "negative associations".
The Sheffield Predators will be know as the Sheffield Giants from next season after more than 2,000 people took part in a vote to decide the new title.
The club said poll was held after recent child sex abuse prosecutions in the county had "created negative associations with its chosen identity".
A newly-designed badge and kit will be unveiled by the end of the year.
General manager Toby Chesters said the team had received more than 180 suggested names and he was "delighted with the final choice".
"We had become uncomfortable with the name Predators, and felt that we needed a new identity to help us achieve our aims to attract new players from schools, colleges and universities in the area," he said.
"As the Giants, we look forward to recruiting many more players who can come and join us for the 2017 season."
The club was founded in 2008 and its adult team plays in the Bafa Northern Premier Division.