No ban on Rotherham 'anti-Islamisation' march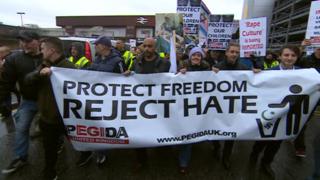 Police in Rotherham have rejected calls by community groups to ban an "anti-Islamisation" protest in the town.
Members of the UK branch of Pegida intend to hold a "silent march" on Saturday.
Temporary Assistant Chief Constable Jason Harwin said there was "no criteria met to ban the march".
Mr Harwin said the cost of policing the parade would be about £250,000 and would involve an extra 500 officers on duty.
A letter signed by 69 groups asked the police to call on the Home Secretary Theresa May to use her powers to prevent the procession from going ahead.
Mr Harwin said he "fully understood the frustrations" of some sections of the community.
"The issue for us is that we have to police within the law," he said.
"The law does not give us any powers to stop a protest."
'Community cohesion'
The town has seen 14 similar protests over the last two years, following the publication of the Jay Report, which found at least 1,400 girls were abused in Rotherham between 1997 and 2013.
One of the signatories of the letter Jawed Siddiqi, vice chair of the Monitoring Group, said "people do not want this".
"They feel that when these groups come it stops community cohesion," he said
"This does nothing. What has Pegida ever done to try to solve the problems that Rotherham does have? Nothing, other than come and march."
In a statement on its website, Pegida said the event would be "in protest at the appalling injustices suffered by children and families in that town..."
The group said the march would have no chanting and those taking part would not be allowed to wear face masks or consume alcohol.
The organisation has held marches in other British cities and is a UK offshoot of the German group which has organised protests in Dresden about what it claims is the "Islamisation" of Europe.
---
What is Pegida?
Acronym for Patriotische Europaeer Gegen die Islamisierung des Abendlandes (Patriotic Europeans Against the Islamisation of the West)
Umbrella group for German right-wingers, attracting support from mainstream conservatives to neo-Nazi factions and football hooligans
Holds street protests against what it sees as a dangerous rise in the influence of Islam over European countries
Claims not to be racist or xenophobic
19-point manifesto says the movement opposes extremism and calls for protection of Germany's Judeo-Christian culture