Tommy Ward murder: £10k reward in hunt for Maltby pensioner's killers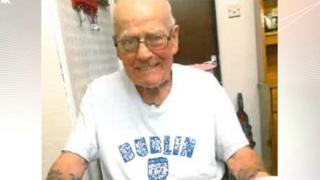 A £10,000 reward is being offered to catch the killers of an 80-year-old man who died five months after he was viciously beaten by robbers.
Tommy Ward was attacked during a break-in at his home in Salisbury Road, Maltby, on 1 October.
Mr Ward sustained a "significant neurological injury" in the attack and died in hospital in February.
Crimestoppers is offering the reward for information leading to the conviction of those responsible.
Five people arrested in connection with the attack were later released.
Gemma Wilson, Regional Manager for South Yorkshire Crimestoppers, said: "The images of Tommy following his ordeal left a lump in my throat when I think what he went through at the hands of these thugs.
"This could have been your relative, or your grandfather who went through this.
"That is why I'm asking if anyone has any information on the individuals who did this, to make sure it doesn't happen again and contact Crimestoppers anonymously."
A safety deposit box was taken during the break-in and a similar one was found in the Kilnhurst area two weeks after the attack.
Members of the public donated more than £30,000 to replace Mr Ward's lost life savings in an online appeal.