Sheffield Predators name-change bid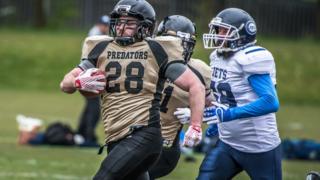 The Sheffield Predators American Football Club has announced it is changing its name due to "negative associations".
The name has attracted comments on social media in the wake of the Rotherham child sex abuse scandal.
Officials said an alternative name needed to encourage schools to get involved and fit with the "razzmatazz" of the sport.
A shortlist is now being put to a public vote.
'Bump, smash and razzamatazz'
The club's general manager, Toby Chesters, said: "The name 'Predators' no longer sits comfortably with the club's stated aims of developing links with the local community, including its schools, colleges and universities.
"We need to avoid any negative associations which the current name is attracting."
He said: "It isn't about keeping the 'PC' brigade happy, it's something we feel we have to do ourselves."
Mr Chesters said the club received 185 different team name suggestions, not including variations on the theme of Boaty McBoatface.
He said the change came at a time when there was increasing pressure on big teams such as the Washington Redskins to do the same.
He said many Redskins fans supported a name change for their club, with US president Barack Obama adding his weight to the debate.
Mr Chesters said: "The new name needs to work across all the different age groups - but still reflect the blood, sweat and tears, the bump and smash, and razzamatazz associated with the sport."
Some names on the shortlist also incorporate Sheffield's links with the steel industry.
---
A potted history of the Sheffield Predators
The club was founded in 2008
It took its current name based on suggestions made on a trip to the pub
The club is among the UK's top 12 American football teams, competing in the Bafa Northern Premier Division at adult contact level
Teams participating in the league include the Coventry Jets and Merseyside Nighthawks
It also has well-developed flag, or non-contact, and youth teams, with members as young as 14 playing contact football
The club's flag team has recently achieved national success, finishing second and third in the national championships in the last two years
Source Sheffield Predators
---