Sheffield hole in road could be due to 'mine workings'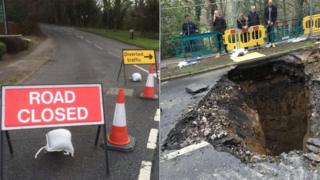 A large hole that has closed a road in Sheffield could have appeared because of unstable former mine workings.
The hole, estimated to be about 15 ft (4.6m) deep, opened up in Hutcliffe Wood Road, Millhouses, on Sunday.
Graeme Symonds, of the city's highways maintenance project, said: "We think it might be an old lead mine."
Work has started on backfilling the hole with concrete and it is hoped the road will open before the weekend, he said.
Mr Symonds said contractors had been referring to old mining records and talking to people in the area, but the precise cause of the collapse was not clear.
A highways inspector had noticed a "slight deformation" in the road during a routine inspection a couple of days before it collapsed, Mr Symonds added.