Sharrow Vale Market threatened by council price hike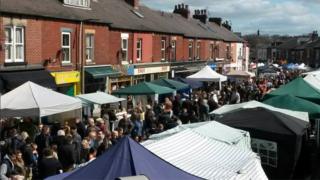 A community market in Sheffield is "in jeopardy" after the council increased the fees it must pay from £25 to £800.
Sharrow Vale Market has been held three times a year since 2009.
The city council said the increase was necessary because the previous £25 fee did not cover its costs.
Ian Ramsay, of Sharrow Vale Community Association (SVCA), said a price rise would be unsustainable, adding: "This huge rise is putting the market in jeopardy."
Live updates on this story and others from Sheffield and South Yorkshire
He said the SVCA "do everything; cones and signage, marshal the event and clean up afterwards" while the local authority said Mr Ramsay "does absolutely nothing apart from give us the permission."
Tom Finnegan-Smith, of Sheffield City Council, said: "Sharrow Vale Market is vibrant and successful, and because we are proposing to increase the charges we are happy to discuss the arrangements with the organiser to ensure continued success.
"To help ensure the success of this very busy event, we have always had to make a Traffic Regulation Notice that allows stalls on the highway and for the temporary closure of Sharrow Vale Road.
"The cost of doing this is changing because the previous fee did not cover costs.
"We have given the organisers some options to think about before the next event in July."
The council has not clarified the cost breakdown but said authorising several events in one go would lower the costs to £375.
Mr Ramsay, who runs accessories shop Petal, said this was still too much.
"If we put up the price of stalls, people simply won't come. They're taking away something from the community," he said.