Doncaster farmers dig ditches to stop quad bike riders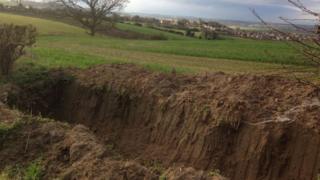 Farmers say they are being forced to dig ditches around their fields to stop quad bikers riding over their land and damaging crops.
Waist-deep ditches have been dug around several farms near villages including Barnburgh, Hooton Pagnell and Brodsworth.
One farmer said he had been threatened with violence by bikers in the past.
South Yorkshire Police said it was working to support the farmers.
The farmer, who asked not to be indentified, paid hundred of pounds to dig the defences at his farm, near Doncaster, because he believed reporting the incidents to police was "a waste of time".
Live updates on this story and others from Sheffield and South Yorkshire
One farmer told BBC Radio Sheffield: "It's terrible to go to all the trouble of growing a crop to then see people riding around and destroying it right in front of your eyes. It's upsetting.
"I have tried to explain to some the damage they're doing and do they want to show any respect for us and our land but I'm met with total hostility.
"I've been threatened by them several times.
"I've reported it in the past but I've got to the point now where its just a waste of time, they never seem to turn up."
Supt Neil Thomas said he believed the force did not "fully understand the extent of the problem" but welcomed farmers' efforts to restrict access to their land.
He said: "Dealing with quad bikes is not an issue that is new to the police, we've got the legislation to deal with people riding their bikes on the roads and in an anti-social manner but, clearly, on farmland this is a developing issue.
"We accept and understand the frustration but by working more closely together we think that we can start making inroads in to the issue."