Two injured in Sheffield as stolen car hits bus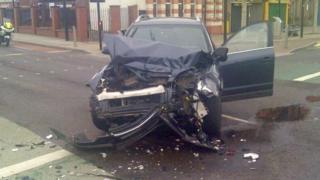 Two people have been injured after a stolen car hit a bus in Sheffield while being pursued by police.
The blue Vauxhall Antara collided with the single decker bus in Derek Dooley Way at about 06:15 BST.
Police said a female bus passenger and a 29-year-old man travelling in the car were hurt, but their injuries "do not appear to be serious".
The 29-year-old and a 42-year-old man also travelling in the car have been arrested in connection with the crash.
The car had been reported as stolen from the Langworth area of Nottinghamshire in the early hours of Tuesday morning, South Yorkshire Police said.