Hedgehog found with spines cut off inside Sheffield student halls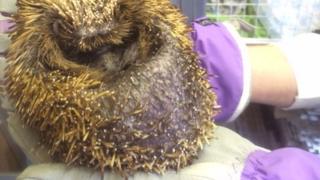 A hedgehog found inside student accommodation with a section of its spines cut off is recovering at a rescue centre.
The hedgehog was discovered by a maintenance worker at a University of Sheffield building on Saturday while he was checking kitchen areas.
A spokesperson for the university said staff were trying to find out how it ended up inside the accommodation.
"Never in my life have I seen such neglect," a rescuer said.
Live updates on this story and others from South Yorkshire
The hedgehog, who has been named Frank after the maintenance worker who found him, is being cared for at the Cawthorne Hedgehog Rescue and Care Centre.
Allan Broadhead, from the rescue centre in Barnsley, said he was "appalled and in tears" when he saw it.
"It's still in a state of shock, but to it's credit it's eating and drinking. If we can help him through the next two to three weeks we might be able to rear him."
It is hoped the hedgehog will shed its spines and re-grow them.