Stocksbridge Leisure Centre volunteers reopen pool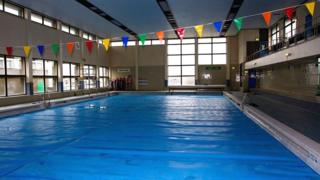 A swimming pool has been officially reopened three years after volunteers took over a leisure centre closed by council cuts.
The community group For Stocksbridge Leisure Centre took over the facility north of Sheffield, and have now secured funding for the main pool.
In April 2013, Sheffield Council closed it as part of council cuts of £50m.
Faye Howard, a volunteer at the centre, said: "This is the culmination of everybody's hard work and efforts."
Ms Howard said there was times "When we thought it would never happen".
Alternative uses had been considered when the pool was closed but it's reopening was the "culmination" of running the leisure centre, she added.
The dry sports facilities have been volunteer-run since January 2014.
Funding for the pool has been secured for the next three years and is to open for swimmers at 07:00 GMT on Monday.