HMP Hatfield inmates abscond from Doncaster open prison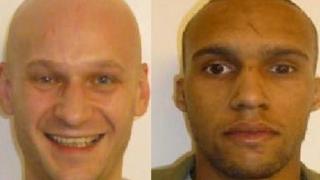 Two prisoners have gone on the run from HMP Hatfield in South Yorkshire.
Jeremiah St Phorose and Darrel Bryce are believed to have left the open prison, on Thorne Road, Hatfield, together on Monday morning.
Both are serving indefinite life sentences, with police advising members of the public not to approach the men.
St Phorose, 27, from Hull, was jailed for offences including burglary and wounding. He has connections in Humberside and West Yorkshire.
Bryce, 31, from Nottinghamshire, was jailed for robbery and possession of a firearm. He has connections in Nottingham and Worksop.