South Yorkshire Police chief constable's retirement 'unfortunately timed'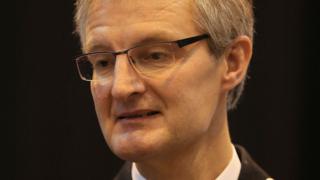 The chief constable of South Yorkshire Police has said the announcement of his retirement on the day the force's handling of child sex exploitation was criticised was "unfortunately timed".
Chief Constable David Crompton, 52, is to step down in November.
This was revealed on the day a report by Prof John Drew found the force's response to the sexual exploitation of children in Rotherham was "inadequate".
Mr Crompton said he had been entitled to retire last year but chose to stay.
Prof Drew's review, which was published on Wednesday, was commissioned after the Jay Report found 1,400 girls were abused in Rotherham between 1997 and 2013.
'Inaccurate comments'
Mr Crompton, who took over as chief constable in 2012, said: "Having read recent media coverage regarding my retirement later this year, I wanted to correct inaccurate comments about my decision to leave.
"Last year I had served 30 years in policing and was able to retire but I felt leaving in the midst of significant challenges for the force would not have been helpful and so I agreed to serve another year.
"I will have completed that year in November.
"In January, I agreed with the PCC [police and crime commissioner] that I would make an announcement about my retirement sometime prior to the PCC elections so that my position would be clear to whoever is successful at the election.
"It is unfortunate that the timing of this reaching the media meant it was linked, by some, to the publication of the Drew Review.
"In fact, the Drew Review is clear that South Yorkshire Police is making good progress in tackling child sexual exploitation, and this will remain a key priority for me for the next seven months."
Prof Drew's report said the force "regularly missed" opportunities to tackle the problem of abuse and had "seriously under-resourced" its early work.
The report also said several attempts to alert senior officers to the issue fell on "deaf ears".
Hours after the report was released, the force issued a brief statement that said: "The chief constable's contract runs until November. He will retire after 31 years in policing."
The Independent Police Complaints Commission (IPCC) revealed it was looking into 200 allegations about the conduct of police relating to child sexual exploitation in Rotherham.
It also said it had 55 ongoing investigations linked to at least 66 officers in South Yorkshire and had received more than 100 allegations linked to officers who have not yet been identified.