Stephen Starkey paracetamol death: Christmas Day robber jailed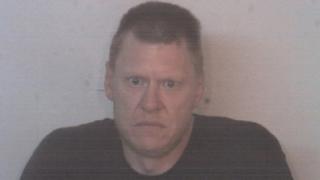 A robber who assaulted a man in his home on Christmas Day has been jailed for life for his manslaughter.
Stephen Starkey, 61, died five days after Wayne Muirhead, 41, broke into his home in Sheffield in 2014.
Police said Mr Starkey died from "paracetamol toxicity" after taking painkillers following the attack. They said his liver was already damaged because of alcohol dependency.
Muirhead must serve at least 10 years before being considered for release.
Muirhead, of Batemoor Road, Sheffield, was found guilty of manslaughter and two counts of robbery following a trial at Sheffield Crown Court in December.
During his trial, jurors heard he forced his way into Mr Starkey's home in Reney Crescent and stole £1,500 in cash, a mobile phone and a PlayStation.
After the sentencing hearing on Wednesday, Det Insp Richard Partridge said: "Muirhead preyed on a quiet, calm man who kept to himself.
"Muirhead has shown no remorse for his actions and the fact he attacked Mr Starkey on Christmas Day is appalling, something I simply can't understand.
"The significant sentence handed to him at court reflects the gravity of his despicable crimes."
Several weeks before his death, Muirhead stole £280 in cash and a mobile phone in another robbery at Mr Starkey's home.
He was arrested after a phone was recovered and a number of calls and text messages were linked to Muirhead.