Doncaster crash deaths driver James Maughan jailed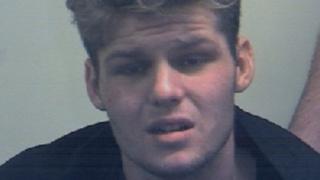 A man who killed two men when his car burst into flames as he hit a wall while overtaking at 70mph has been jailed for 10 years.
James Maughan, 21, was found guilty of causing death by dangerous driving after a trial at Sheffield Crown Court.
Liam Aldred, 26, and Dean McIntyre, 27, died when Maughan's black Renault Megane crashed in Branton, near Doncaster, on 25 August last year.
The court heard he overtook two other vehicles at 70mph in a 30mph zone.
Maughan, of Marshland Road, Doncaster, fled the scene and left four people burning inside a car, South Yorkshire Police said.
Emergency services found Mr Aldred and Mr McIntyre dead inside the car with two other men, aged 16 and 21, who both survived but had suffered burn injuries, the force said.
Maughan was overtaking a Volkswagen Passat that was already overtaking a car towing a caravan in a 30mph zone seconds before the fatal crash, the court heard.
His car hit a kerb on the wrong side of Doncaster Road, causing it to lose a back wheel and demolish a number of bollards on a central reservation.
It ended up on its roof, bursting into flames in the front garden of a house.
'Distressing trial'
Maughan, who had denied being the driver, was also banned from driving for 15 years.
Temp Insp Steve Askham said Maughan had "never shown any remorse".
"He had absolutely no regard for other drivers, pedestrians or those inside the car with him when he drove so dangerously on the day of the crash. He showed further disregard when he left his friends inside the car to burn.
"He then put the families through a very distressing and traumatising trial, when he could have admitted what happened months ago and spared them the ordeal of having to endure a trial."
He was also found guilty of one count of causing serious injury by dangerous driving.