Sheffield City Region devolution deal wins backing of councils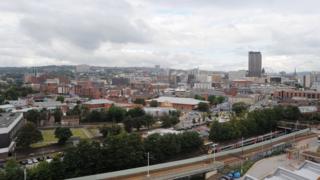 A devolution deal which would pave the way for a directly elected mayor in the Sheffield City Region (SCR) has won the support of all nine councils affected.
Sheffield City Council was the final authority to ratify the in-principle agreement announced in October.
The deal would also give the region access to £900m of government money over the next 30 years.
It will now be put forward for ratification by the SCR Combined Authority on 31 March.
Mayoral elections will take place in May 2017 if the deal goes through.
The SCR is comprised of the nine local authority areas of Barnsley, Bassetlaw, Bolsover, Chesterfield, Derbyshire Dales, Doncaster, North East Derbyshire, Rotherham and Sheffield.
Sheffield City Council initially raised objections to the deal, including the mayors power to veto unanimously supported decisions, but last week announced its demand had been met.
Barnsley Council was the first of the nine authorities to back the deal, ratifying the proposal on 25 February.
Speaking at the time, council leader Sir Steve Houghton said he believed devolution would be "crucial in creating a brighter future".