Rotherham taxi drivers' suspensions to aid public 'confidence' says commissioner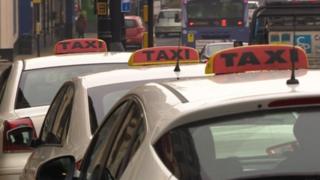 The suspension of about 40 taxi drivers in the borough of Rotherham is aimed at restoring public confidence, according to the commissioner overseeing the service.
Mary Ney said the aim was to overcome a "a loss of confidence" in the wake of the town's child sex abuse scandal.
Tariq Sadiq, of Rotherham Hackney Drivers' Association, said he believed taxi drivers were "an easy scapegoat".
But Ms Ney said they wanted to ensure the "fit and proper person" test requirements were fulfilled.
The rules take into account previous criminal convictions, complaints against drivers and more stringent safety requirements for the taxis.
A further 171 drivers could be suspended because they have not completed the mandatory training in protecting children and vulnerable adults, it has been revealed.
The council is to organise further training sessions for drivers to complete, said Mrs Ney.
The new rules come after the Jay report into child sexual exploitation in the town that said taxis had been used by abusers to traffic victims.
Mrs Ney said there was a "cause for concern" after looking at the records of 67 drivers but not all of them would fail the "fit and proper test"
The drivers have been given the chance of a personal hearing and about 40 had their licence revoked.
The suspended drivers can appeal to magistrates and around 20 cases have yet to be heard, said Ms Ney.
Responding to Mr Sadiq's concerns, she told BBC Radio Sheffield: "In Rotherham there's been some historic problems and there's clearly been quite a loss of confidence in the taxi trade.
"What we're trying to do is to ensure the very high standards of the taxi trade in Rotherham so the public do have confidence again in using the service."
The borough has an estimated 1,100 taxi drivers.
Government commissioners were selected to run Rotherham Council until 2019 after the local authority was found to be "not fit for purpose" over its handling of child sexual exploitation in the town.