Double death crash driver was James Maughan say prosecution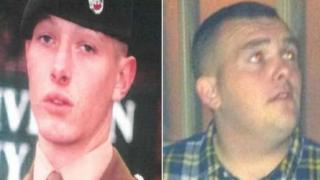 A car which crashed into a garden and burst into flames killing two passengers and seriously injuring a third was overtaking two other vehicles at 70mph, a court has heard.
Liam Aldred, 26, and Dean McIntyre, 27, died when the black Renault Megane they were travelling in crashed in Branton, near Doncaster, last August.
Prosecutors say the driver of the Megane was 21-year-old James Maughan.
Mr Maughan, of Marshland Road, Doncaster, denies being the driver.
Opening the case against him, Michael Slater, for the prosecution, said the Megane was overtaking a Volkswagen Passat, which was already overtaking a car towing a caravan in a 30mph zone seconds before the fatal crash.
'False name'
He said the Megane then hit a kerb on the wrong side of Doncaster Road, causing it to lose a back wheel and demolish a number of bollards on a central reservation.
It ended up on its roof, bursting into flames in the front garden of a house.
Mr Slater said the accused and a 15-year-old boy fled the scene of the crash while another man, Bradley Stevenson, who was set on fire in the crash, climbed from the wreckage and was treated at the roadside.
He said Mr Maughan then travelled to Swansea where he admitted himself to hospital under a false name claiming he had been injured at a family barbecue.
Mr Slater asked jurors to consider why Mr Maughan had left the scene if he was not the driver.
"The reason Mr Maughan was fleeing the scene was the very fact that he had been the driver and didn't want to be apprehended."
Mr Maughan denies two counts of causing death by dangerous driving and one count of causing serious injury by dangerous driving.
The trial continues.