Court orders end to University of Sheffield student occupation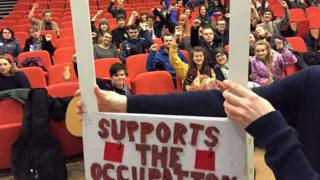 The University of Sheffield has been granted a court order to remove 19 students who have been occupying a lecture theatre for more than a week.
The "Free University of Sheffield" began the sit-in at the Richard Roberts Auditorium in protest at paid-for education.
The university said it "recognised the commitment to peaceful protest" but could not condone the occupation.
A possession order was granted by a judge at Sheffield County Court.
A spokesperson for the University of Sheffield said: "We look forward to the occupation coming to an end very soon."
The sit-in began on 29 February and a number of students slept in the lecture theatre.
The group's Twitter page, @freeunisheff, said it was "fighting for free, non-hierarchical, directly democratic education."
The university said in a statement it understood the "increasing marketisation of higher education is rightly an issue very close to the hearts of many of its staff and students.
"Along with universities across the country, we have outlined these concerns in detail as part of our response to the Government Green Paper on Higher Education.
"As a University, we fully support freedom of speech and the right of students to express their views peacefully and within the law.
"The University recognises the commitment of the occupiers to peaceful protest, however cannot condone occupation of a building that could cause disruption to our staff and students."
The University declined to comment further after the hearing.