Rotherham man pleads guilty to child sex offences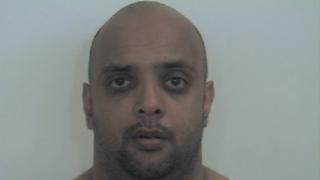 A delivery driver is facing jail after pleading guilty to sending a series of sexually inappropriate messages to a 15-year-old girl.
Aftab Hussain, 36, admitted two counts of inciting sexual activity with a child at Sheffield Crown Court.
He also pleaded guilty to attempted witness intimidation, having made threats to hurt the girl and her family if she told anyone about the messages
Hussain, of Holywell Place, Rotherham, will be sentenced on 11 April.
South Yorkshire Police said Hussain first contacted the girl in September 2015 via social media.
Det Insp John Fitzgibbons said: "Hussain is much older than the victim and sent increasingly sexualised messages to her; he asked her for sex despite the fact that he was a grown man and she was a child.
"Then, when it became known what he had done, he threatened the girl and said he would hurt her and her family if she told anyone.
"In spite of his threats, the girl has shown immense bravery, as has her family and the other witnesses involved."