New £56m Robin Hood Airport to M18 link road opens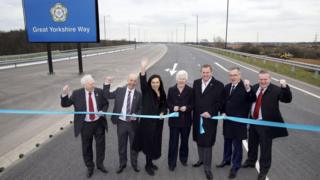 The first section of a £56m dual carriageway linking the M18 with Robin Hood Airport has been officially opened.
The Finningley and Rossington Regeneration Route Scheme (FARRRS) runs from Junction 3 to the A638.
It will also improve road access to the iPort logistics park and housing on the former Rossington Colliery.
Mayor of Doncaster, Ros Jones, said: "It's a regeneration road that is second to none".
The three-mile road, which took more than two years to build, has been named Great Yorkshire Way.
It opened to the public almost an hour ahead of schedule at about 15:10 GMT.
---
James Vincent, BBC Look North
£50m plus worth of road and it's not quite there yet.
The airport link road has been in the planning for the best part of a decade and, even though it doesn't go quite to the airport (yet), it's still going to mean a lot to Donny.
The section goes from the M18 to Parrot's Corner, about a mile away from the airport. The second phase is planned and funded, but not built yet. That will be the road that takes you directly to the departure gate.
You could say that rather than being the airport link road, this section could be known as the Yorkshire Wildlife Park link road. That attraction will benefit as much from the improved access as the airport will.
Along the three miles of new road will be a huge distribution centre which is being marketed as an "Inland Port" and 1,200 new homes in Rossington.
Jobs, homes and investment - all three things Doncaster needs.
---
Dan Fell, chief executive of the Doncaster Chamber, said: "This road is absolutely critical to the ongoing economic regeneration of Doncaster and the wider Sheffield City Region.
"It will unlock growth at the airport, unlocks the iPort and growth in the logistics sector and also improve connectivity in the area for indigenous businesses."
The second phase of the FARRRS, which will join the airport to Bawtry Road, is expected to begin later this year.