Witness appeal over 'brutal' Balby rape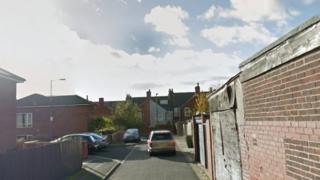 Detectives investigating the "brutal" knife-point rape and robbery of a woman have appealed for witnesses.
The woman was attacked by three men as she walked home in the Queen Street area of Balby, Doncaster, between 23:00 and 23:30 GMT on 20 February.
South Yorkshire Police said she suffered a head injury after being pushed to the floor and kicked.
The force said she also had nine rings and a gold belcher-type locket taken from her.
CCTV footage showed the woman walking along Balby Road before turning on to Queen Street, and then into a cul-de-sac at about 23:00.
She reported the attack to a member of the public about 30 minutes later.
Det Sgt Kevin Britten said: "This was a brutal attack where the victim was pushed to the floor and kicked sustaining a head injury which required hospital treatment.
"The men responsible need to be identified and arrested."
The force has also appealed to any jewellers who may have been offered any of the stolen items to come forward.