Rotherham pensioner 'racially abused before fatal attack'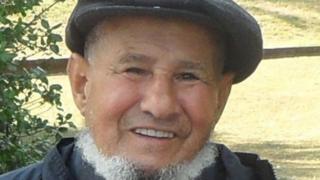 A man racially abused an 81-year-old pensioner before launching a fatal attack with his friend, a court heard.
Dale Jones flew into a "raging fury" after a day of drinking and taking drugs and accused Mushin Ahmed of being a "groomer", Sheffield Crown Court was told.
Mr Jones and Damien Hunt punched, kicked and stamped on Mr Ahmed as he made his way to prayers at a mosque in Rotherham in August, the jury was told.
The pair both deny murder.
'Drugs and alcohol'
Andrew Robertson QC, prosecuting, said Mr Jones had become agitated, violent and aggressive due to an issue concerning his partner's son's father and had spent the day and night of the 10 August drinking alcohol and taking cocaine and diazepam.
"He had got himself into a raging fury. A rage fuelled by drugs and alcohol," said Mr Robertson.
The court heard that a short time before the fatal attack, Mr Jones racially abused an Asian taxi driver.
About 10 minutes later, Mr Ahmed emerged on to Doncaster Road.
Mr Robertson said: "Jones immediately accused him of being a groomer. No doubt his word for paedophile and no doubt an accusation made by Jones for no better reason than Mr Ahmed was Asian."
Died in hospital
The prosecutor said CCTV footage showed Mr Jones and Mr Hunt following Mr Ahmed. Two witnesses said they then saw Mr Jones punch and kick Mr Ahmed in the head.
Mr Ahmed was found by a passer-by two hours after the attack and was taken to hospital, where he died 11 days later.
Mr Robertson said Mr Ahmed suffered extensive head and facial injuries and had the imprint of a trainer across the front of his face.
The imprint was believed to match that of the make of trainer worn by Mr Jones on the night, and Mr Hunt's DNA was found on Mr Ahmed's broken dentures.
Mr Jones, 29, of Norwood Street, Rotherham; and Mr Hunt, 29, of Doncaster Road, Rotherham; are expected to blame each other, the court heard.
The trial continues.