Doncaster taxi crash: Two women die and 10 hurt in taxi crash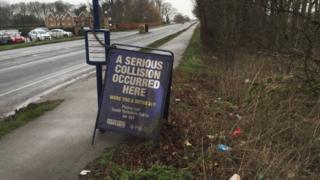 Two women died and 10 people were injured in a crash involving two taxis in South Yorkshire.
The accident happened shortly after midnight on the A638 at Rossington, Doncaster, leaving the Great North Road closed.
The two women, aged 59 and 52, were passengers in a black cab heading towards Bawtry, said police.
The other taxi carried six passengers and a driver. It was travelling in the opposite direction to Doncaster.
Two men, both aged 58, also travelling in the black cab, sustained minor injuries.
The six passengers in the other taxi were three men aged 22, 25 and 29, and three women, aged 21, 25 and 26.
The drivers of the taxis were men aged 40 and 58.
All 10 were taken to hospital to be treated for minor injuries, South Yorkshire Police said.
The road was closed for a time but has since reopened.