Sheffield City Council plans 400 job cuts and council tax rise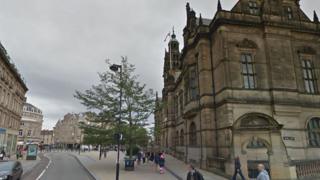 Sheffield City Council could cut 400 jobs and raise council tax, in an attempt to cut £50m from its budget.
A 1.99% council tax rise would protect essential services after it had made £350m of savings in five years by the end of 2016-17, the council said.
Councillor Ben Curran said it would " always balance the books, but we cannot do this sadly without changes being felt."
The 2016-7 budget is to be agreed at a full council meeting in March.
Currently there are about 11,000 full-time equivalent posts at the council.
The Labour-controlled council is also proposing to raise its council tax by a further 2% under a government social care precept.
The precept was introduced by Chancellor George Osborne in his 2015 autumn statement.
A public consultation is to be held at Sheffield Town Hall on Thursday to discuss council plans over the "tough decisions" to be made.
These plans include rationalising council accommodation, moving work online and looking at the funding of sports facilities and museums.
Steps would be taken to minimise redundancies by offering voluntary severance and early retirement schemes, said the council.