Graves Park cottage sold by Sheffield Council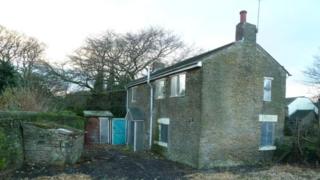 A cottage on the edge of a Sheffield park has been sold at auction for £150,000 despite protests and a 12,000-signature petition against its sale.
The stone-built building at Graves Park had a guide price of £100,000 and is in need of complete renovation, according to the auction catalogue.
Sheffield City Council said the money would be spent on improving the park's facilities.
The Friends of Graves Park said the council had a "conflict of interest".
The sale of Cobnar Cottage was against covenants placed on the use of the land, said the organisation.
An online petition against the sale has had more than 12,400 signatures.
"The cottage has never formed part of the public amenity of the park, it sits outside the boundary wall and has stood empty for many years", said a Sheffield Council statement.
The council said it had had written acknowledgment from the Charity Commission of its power to sell the cottage.
There were no covenants to prevent the cottage's sale and it had "absolutely no plans to sell any further parts of the park", it added.
Graves Park covers 214 acres (87 hectares) and is the city's largest public park.
Alderman J G Graves gave the land for the park between 1925 and 1936.