'Freedom Riders' push for free South Yorkshire rail travel for elderly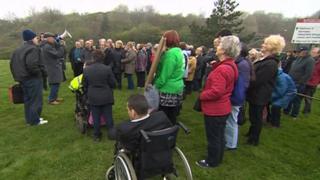 A South Yorkshire group has called for the region's travel body to reinstate free rail travel for the elderly after it revealed a predicted £2m underspend.
Freedom Riders pushed for free travel for older and disabled people after South Yorkshire Passenger Transport Executive (SYPTE) cut grants in 2014.
It now says the surplus on SYPTE's concessionary travel budget means it should restore rail concessions.
SYPTE said the changes to concessionary travel would not be reversed.
Due to cuts in funding, SYPTE cut free travel on buses during peak hours and removed concessionary rail travel in 2014.
Following protests, free travel for disabled people was reinstated as well as half-price fares on trains for people aged over 65.
Two men were charged with obstructing a police officer following a Freedom Riders protest at Sheffield railway station in June 2014, but the charges were later dropped.
'Financial pressures'
Tony Nuttall, from the Freedom Riders, said: "The transport executives have a massive underspend on their concessionary travel budget.
"They now need to look at fully restoring the concessions that were previously in place for older people - it would not cost very much to do so."
SYPTE said its final financial position on its concessionary travel budget would not be known until the end of March, but reasons for the predicted surplus include the rising figure of over 65s holding driving licences and the rising pensionable age, leading to fewer passholders.
A spokesman said: "Reflecting significant financial pressures across local government, the South Yorkshire Local Authorities have asked SYPTE to make budget savings of 10%, to reduce the transport levy by £8.5m for 2016/17.
"Changes to concessionary travel arrangements passed by Sheffield City Region's Transport Committee in 2014 are not being reversed."