South Yorkshire firefighters to ballot for industrial action over control room cuts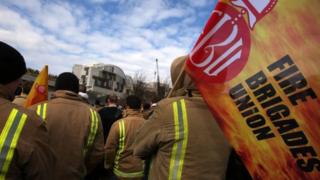 Firefighters in South Yorkshire are to be balloted over strikes amid plans to cut a quarter of emergency control operators.
The Fire Brigades Union (FBU) said the cuts would put the public at "greater risk".
South Yorkshire Fire and Rescue (SYFR) said the number of calls had "fallen significantly in recent years".
Figures from the fire service show in 2004-05 it handled 48,249 calls and in 2014-15 took 29,291 calls.
Pete Smith, of the FBU, said: "Fire chiefs have lost the trust and respect of their staff through these savage cuts to fire control, leaving us with no option but to ballot for industrial action.
"The public in South Yorkshire will be put at greater risk if these posts are cut."
'Vital role'
The fire service said: "The number of calls to our control room has fallen significantly in recent years."
"At the same time, we have had some big reductions to our funding and expect to lose a further £5m from our annual budget over the next four years."
The service had already reduced the number of managers and back office staff, it said.
Comparable fire services had similar numbers of control staff with "no impact on public service", it added.
The FBU said the 32 operators played a "vital role" and the plan to lose eight showed a "callous disregard for public and firefighter safety".
Senior fire officers in South Yorkshire recently agreed to repay about £27,000 in overtime payments made during the 2013 fire strikes.