Sheffield road death sparks calls for speed cut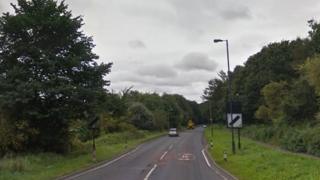 More than 2,000 people have signed a petition to reduce the speed limit and improve safety on a road where a 20-year-old man died in a crash.
Sean Salvin, from Sheffield, died on 30 December when his red Volkswagen Golf crashed on Ecclesfield Road, in an area known as Woolley Wood Bottom.
The petition urges the council to cut the speed limit from 60mph to 40mph.
Sheffield City Council said it would not comment on the petition due to an ongoing police investigation.
Writing online, Mr Salvin's cousin Terrie Salvin said: "Something needs to be done before another person loses their life"
Another relative, Mitchell Salvin, wrote: "I am signing this petition as my 20-year-old cousin lost his life on this stretch of road.
"This road has took too many lives, it's about time something was done to make sure this doesn't happen again."
South Yorkshire Police said Mr Salvin's car was the only vehicle involved and are appealing for witnesses to the crash to come forward.
Dave Nichols, from the road safety charity Brake, said: "We would welcome any review or changes to this stretch of road based on road safety evidence, but reducing speed limits is only one measure and should be combined with education and enforcement to create a culture of driving safely."