Rotherham sex abuse trial: Mother weeps at daughter's 'abuse' book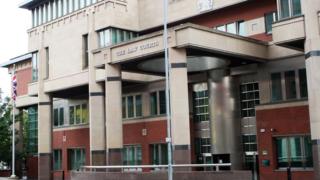 A mother wept in court as she recalled finding a school exercise book her daughter had used to record a string of alleged sexual offences against her.
The woman said she had been left "shocked" by the "explicit" text in which her daughter detailed the abuse.
She was giving evidence at the Rotherham child sexual abuse trial at Sheffield Crown Court.
Five men and two women deny a range of charges related to alleged child abuse in the town over a 10-year period.
The witness, who cannot be named due to the nature of the allegations, said her daughter had been a "happy child" until she started senior school aged 11.
She said her daughter started spending time with "older girls" and Asian men, would spend days away from home and was placed in local authority care on a number of occasions.
"She told me they were her friends, these Asian men, and that they were taking her out," she said.
"They used to come and knock on the door and ask for her. I told them to go away as she was only a child.
"I used to beg her not to go but she said 'I've got to go. You don't know what will happen if I don't'."
Defendants on trial:
Arshid Hussain, 40, High Street, East Cowick, Goole, faces 30 charges, including five counts of rape.
Qurban Ali, 53, Clough Road, Rotherham, faces four charges, including rape and conspiracy to rape.
Majid Bostan, 37, Ledsham Road, Rotherham faces one charge of indecent assault.
Sajid Bostan, 38, Broom Avenue, Rotherham faces seven charges, including four counts of rape,.
Basharat Hussain, 39, of no fixed abode, faces 15 charges including two counts of rape.
Karen MacGregor, 58, Barnsley Road, Wath, South Yorkshire, faces four charges, including conspiracy to rape.
Shelley Davies, 40, Wainwright Road, Kimberworth Park, Rotherham, faces three charges, including conspiracy to rape.
She told the court she found the book in her daughter's bedroom.
She said: "It told me that she was going with a lot older Asian men and what sexually they were doing to her. It was very explicit.
"It took a long time for it to sink in because I was that shocked".
She said she had taken the book to the police, but "they just gave it back". She said she had also taken it to social services but they "did nothing" so she eventually burnt it.
The trial continues.