Sheffield man jailed after online vigilante grooming sting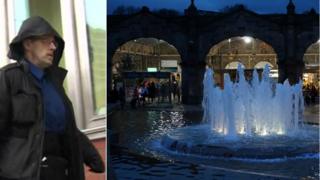 A man has been jailed for three years for attempting to groom a 14-year-old girl after he was caught by an online vigilante group.
Dean Copley, 45, sent explicit pictures of himself and made sexual approaches over Facebook before arranging to meet the 'girl' at Sheffield station.
Copley, of Renathorpe Road, Sheffield, had actually been conversing with the Online Predator Investigation Team.
At Sheffield Crown Court, he pleaded guilty to attempted grooming.
Police said Copley sent a friend request to the fake account on 29 December last year and "immediately began to engage in topics of a sexual nature".
'Perverted lust'
After organising to meet-up on 14 February, the married couple behind the vigilante group confronted Copley at the station and alerted British Transport Police officers.
During questioning, Copley, said he thought he had been sharing messages with a 16-year-old and told police he had realised the profile was fake but went ahead with the meeting to expose those behind the sting.
Judge Peter Kelson QC, sentencing, told Copley: "Perverts must be stopped from preying on children.
"You wanted full sexual intercourse with a 14-year-old child.
"You were not trapped by this couple, you were trapped by your own perverted lust."
Det Insp Mick Jackson, from the British Transport Police, said: "This is a significant sentence which sends out a clear message and will hopefully act as a deterrent."