Jessica Ennis-Hill gets honour from her home city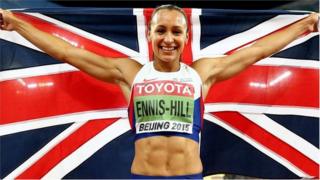 Olympic athlete Jessica Ennis-Hill has received another honour in her home city, Sheffield.
Ennis's success at this year's world championships earned her a third accolade in the hall of fame at her training venue.
A commemorative photograph of the heptathlon champion was unveiled at The English Institute of Sport.
Ennis won gold in Beijing in August and hopes for more success in 2016 at the Rio Olympics.
She said: "I can definitely take a lot of confidence from this year.
"It was a very unexpected year and I'm just so happy that I was able to come back the way I did, and hopefully I can take some of that confidence and strength into next year."
The 29-year-old is shortlisted for this Sunday's BBC Sport Personality of the Year awards.
She said: "When you see all the nominees side by side and you hear their achievements it's incredible and every athlete has achieved something special in their own right.
"It's going be a tough one, but it will be a great evening and I'm just looking forward to being there!"
Ennis won her second world heptathlon title 13 months after giving birth to her first child.