Rotherham councillors could get powers back from commissioners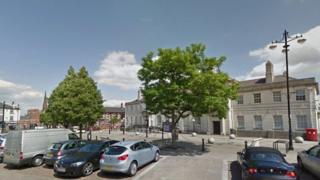 Some control could be handed back to Rotherham's councillors if proposals by the government-appointed commissioners running the authority are accepted.
Five commissioners have been running the council since February after it was declared "not fit for purpose" in the wake of the child exploitation scandal.
Sir Derek Myers, the lead commissioner, said it had "come a long way".
Control of housing, education and public health could be returned to the council's cabinet.
Others areas listed in the proposal include planning, highways, leisure and cultural services.
'Significant step'
The departments account for a third of the council's expenditure and could be returned by February, said Sir Derek.
However, he stressed children's services and adult social care would remain under the supervision of commissioners as further improvement would be needed in these areas.
Council leader Chris Read said: "This is a significant step towards returning local democracy to the people of Rotherham."
The commissioners took control following the Casey Report's criticism of the council's response to child exploitation.
The town was the centre of an abuse ring and last year the Jay Report found 1,400 children had been subjected to abuse.
Sir Derek said any return of powers to the council would be "proportionate and gradual".
The commissioners are due to remain in control of Rotherham Council until the end of March 2019.
It was planned some powers could be passed back to the local authority before that date.
A consultation about the proposal is under way and a decision is to be taken by the Secretary of State in January.
The return of some powers could coincide with a new chief executive taking up her role in February.