Barnsley statue plan for England's worst mining disaster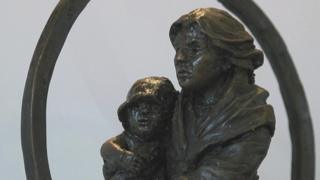 Campaigners are hoping for England's worst mining disaster to be recognised with a memorial of "national significance".
The explosion at the Oaks Colliery, near Stairfoot, Barnsley, in South Yorkshire on 12 December 1866, killed more than 380 miners and rescuers.
Many of the bodies of the men and boys killed were never recovered.
Michael Dugher, MP for Barnsley East, said it should be a permanent memorial to a "fundamental part of our history".
There should be "something of national significance" to mark the "huge contribution the industry made".
A group of former miners, supported by the National Union of Mineworker's (NUM) is raising money for a statue designed by Barnsley sculptor Graham Ibbeson to be erected next year to mark the 150th anniversary of the disaster.
Mr Ibbeson also designed the statue of cricket umpire Dickie Bird that stands in the town and of Eric Morecambe, Stan Laurel and Oliver Hardy, and Fred Trueman.
An explosion thought to be caused by flammable gases buried the miners including young boys in the workings. A second explosion killed 27 of the rescuers.
It remains the worst mining disaster in England.