John Gogarty murder: Review of killer Birley's licence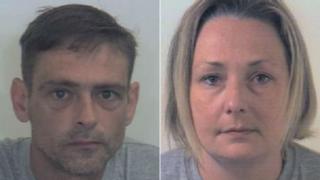 A government review is under way into the release of a convicted murderer who stabbed a man to death while he was out of prison on licence.
Ian Birley and Helen Nichols were jailed on Monday for knifing 65-year-old John Gogarty 69 times during a robbery at his Barnsley home in July.
Birley had served 18 years of a life term for murder before his release.
The Ministry of Justice (MoJ) said it would "consider the findings and make sure lessons are learned".
A summary of the findings into how Birley was "managed by the probation service and other agencies" would be passed on to the victim's family, the MoJ said.
Birley, 43, of Mont Walk, Wombwell, was given a whole life term at Sheffield Crown Court while Nichols, 39, also of Mont Walk, will serve a minimum of 20 years before she is eligible for parole.
Mr Gogarty's body was discovered at his home in Marsh Street by his son on 17 July, four days after the attack.
The self-employed property developer had battled a serious illness a year before he was murdered by the pair, his family said in a statement.
"Along with the support of and care of his family, his stubborn determination and iron will defied medical assumptions as he fought to regain his health," they said.
"[We] were ecstatic that John would be with us for years to come, until the 13th July 2015, when he was brutally murdered in his own home."
Birley had been sentenced to life in November 1996 for murdering 69-year-old Maurice Hoyle at his home in Oakwell, Barnsley, the previous year.