Wombwell robbery killer was on licence for previous murder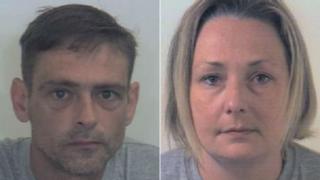 A man who stabbed a 65-year-old man to death during a robbery was out of jail on licence for murder at the time.
Ian Birley, 43, and Helen Nichols, 39, knifed John Gogarty 69 times at his home in Wombwell in July.
Birley, of Mont Walk, Wombwell, who was convicted of murder and robbery, was on licence, having served 18 years of a life term, police confirmed.
Nichols, also of Mont Walk, was convicted of murder. She had previously pleaded guilty to robbery.
Speaking after the trial at Sheffield Crown Court, Det Ch Insp Steve Handley said both he and Mr Gogarty's family were "pleased" with the verdicts.
"It was a shocking case. For a 65-year-old man to be stabbed 69 times in his own home is an horrendous and atrocious offence and a high level of violence was displayed by the offenders," he said.
"Mr Gogarty was a hard-working, security conscious man who kept himself to himself. He was mild-mannered and never displayed violence to anyone."
Mr Gogarty's body was discovered at his home in Marsh Street by his son on 17 July, four days after the attack.
Police said a receipt for a £500 withdrawal from Mr Gogarty's account, which was made at about 18:50 BST on 13 July from a nearby bank, was found close to his body, the court heard.
CCTV footage showed a woman matching Nichols's description making the withdrawal.
Further CCTV showed Birley and Nichols together on Marsh Street before and after the money was taken out.
They are both due to be sentenced on 7 December.