Sheffield City Council leader: Mayoral veto plan 'unacceptable'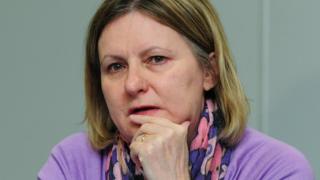 Plans to give South Yorkshire's elected mayor the power to veto unanimously supported decisions under a government devolution deal are "unacceptable", the leader of Sheffield City Council says.
Councillor Julie Dore said the Labour-run authority would not support the agreement unless changes were made.
She said the veto should be removed and council leaders given the right to override the mayor if two-thirds agree.
The government said it would meet city region leaders to discuss the issue.
Mrs Dore's concerns come after Sheffield City Region agreed an "in-principle" deal in October.
'Protect city region'
"As leader of the council I can't recommend this proposal as it stands at the moment with that clause in it," Mrs Dore said.
"We've always maintained, not just Sheffield, but in all of the other authorities, that the clause that relates to the mayor and the vetoing power of the mayor is not acceptable."
She said the change, which would replicate the proposed system in Manchester, would "protect the city region from a position where all power is placed in the hands of one individual".
The city region comprises the nine local authority areas of Barnsley, Bassetlaw, Bolsover, Chesterfield, Derbyshire Dales, Doncaster, North East Derbyshire, Rotherham and Sheffield.
A spokesperson for the Treasury said the city deal signed in October committed significant new investment to the region.
"Devolution is all about local leaders deciding what is best for their area and so it is up to the civic leaders of Sheffield what mayoral model is right for them," they added.
Mrs Dore called for people living in the five areas of Derbyshire and Nottinghamshire to be allowed to vote in the mayoral election, proposed to take place in 2017.
'Not a good model'
Under the current proposal only those living in Barnsley, Doncaster, Rotherham and Sheffield would be entitled to vote.
"Having a mayor that half of the city region votes for but half doesn't, is not a good model," she said.
Sir Steve Houghton, leader of Barnsley Council and chair of the Sheffield City Region Combined Authority, said he had asked for a meeting with Lord O'Neil, the commercial secretary to the Treasury, who has responsibility for city devolution.
He said: "The government have said they will talk to us and we need to see how those discussions go."
An online consultation on the proposed plans runs from 2 December to 15 January.