Bid to ban legal highs in Barnsley town centre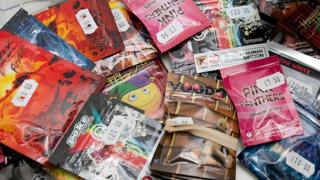 People caught using legal highs in the centre of Barnsley could be fined up to £1,000 as part of council-backed plans to tackle anti-social behaviour.
Barnsley Council wants to introduce a Public Space Protection Order (PSPO) following a "significant increase" in anti-social behaviour since 2013.
The order would criminalise the use of "intoxicating substances", such as legal highs, in some parts of the town.
It will now be put out to consultation before a final decision is made.
If granted the PSPO would make it a criminal offence to "behave in a way that causes or is likely to cause harassment, alarm or distress" or to use, possess or supply any "intoxicating substance", with some exceptions such as alcohol and tobacco.
Anyone in breach of the order could receive a £100 fixed penalty notice or face a fine of up to £1,000 in court.
Council documents say that residents and members of the public have complained of problems including "people urinating in the street, intimidating elderly residents, abusing shop workers and people vomiting, frothing at the mouth, head butting stone steps and hallucinating while under the influence of intoxicating substances".
Council leader Sir Steve Houghton said: "What we need to do is give the police and council officials the powers to act on these things as quickly as possible and for people to know that if they do not behave themselves we're going to clamp down on them very, very hard."
The proposals have been backed by Labour MP for Barnsley Central Dan Jarvis who said he "wholeheartedly" supported the plan.
In April, Lincoln became the first city in the UK to introduce a ban people taking legal highs using a PSPO.