Public Enemy on Ford Focus 'Bohemian Rhapsody moment'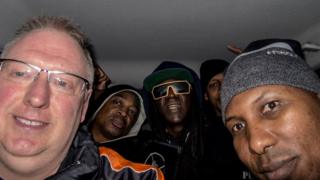 Public Enemy founder Chuck D has described a photo of the band taken in the back of a fan's Ford Focus as a "Bohemian Rhapsody moment".
Photographer Kevin Wells gave the hip-hop legends a lift when they were left stranded on Saturday, shortly before being due onstage.
He previously said an impromptu sing-along of Queen's 1975 hit had been a highlight of the journey.
Band frontman Chuck D said it was "a pleasure".
Updates on this story and more from around South Yorkshire
The rapper told 5 Live he had suggested Mr Wells' passengers, including bandmate Flavor Flav, indulge in a spot of head banging during the journey.
'Slam your head'
Once inside, Chuck D said he kicked off an in-car rendition of Bohemian Rhapsody, similar to that in 1992 comedy Wayne's World, although he himself did not sing.
"I did the riff," he said.
"You don't sing at that part, that's the part where you slam your head."
The group had been signing autographs at a record store before their gig in Sheffield, but a taxi mix-up left them without transport.
Chuck D said the group had struggled to get a lift until Mr Wells stepped in.
"We walked a couple of blocks, got into his car and had a great time," he said.
Chuck D said Mr Wells had been offered a chance to appear onstage, but prior commitments meant he had to decline.
"We were going to have him onstage for the last song, Harder Than You Think.
"Getting to the gig was harder than you thought."
---
Public Enemy
US hip-hop group formed on Long Island, New York in 1982
Known for their politically charged lyrics and criticism of the American media
Their first five albums during the late 1980s and early 1990s were all gold or platinum sellers in the US
Hits include 'Don't Believe the Hype', 'Fight the Power', 'Bring the Noise' and 'Harder Than You Think'
Considered one of the most influential hip-hop groups of all time
Co-founder Flavor Flav is known for wearing a clock around his neck onstage
---
The band were "very grateful" to Mr Wells, he said.
"It was a pleasure that we happened to interact in our lives at that particular moment and it worked out for all of us."