Former Henderson's Relish factory to become University of Sheffield pub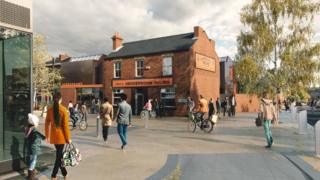 An empty sauce factory and campus landmark in Sheffield is to be turned into a pub.
The University of Sheffield bought the Henderson's Relish building on Leavygreave Road in the summer.
The university said it was to turn the former factory into a pub while retaining its distinctive signage.
Henderson's Relish, a local delicacy, was produced there from the late 19th Century until 2013 when a new site was developed near the city's Parkway.
More on this story and other news from Sheffield & South Yorkshire
Keith Lilley, of the university, said: "We know how much the old Henderson's building means to the people of Sheffield".
He said the university planned a competition for Sheffield architects to design a development retaining the original house at its centre.
Pamela Freeman of Henderson's said some of the company's history would be displayed within the new pub.
Henry Henderson began manufacturing the sauce from his home on Broad Lane in 1885. Production then moved to Leavygreave Road and remained in that building until 2013.
It is a spicy and fruity sauce marketed and sold mainly around South Yorkshire.