Public Enemy fan drives rappers to Sheffield Arena gig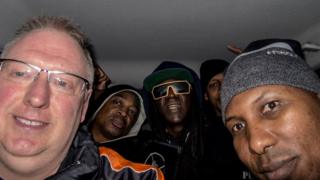 A Public Enemy fan had to drive the band to an arena gig in his Ford Focus shortly before they were due onstage.
Kevin Wells went to a Sheffield record store to meet the band at a signing on Saturday, but ended up becoming their driver when the group's taxis abandoned them.
Highlights of the journey included singing along to Queen with Flavor Flav and Chuck D, and a selfie at the venue.
Mr Wells said the photo had gone "ballistic" after posting it online.
The 50-year-old, of Killamarsh, said the rap group were at the Record Collector store, in Broomhill, to sign albums ahead of their gig with the Prodigy at Sheffield Arena.
Updates on this story and more from South Yorkshire
He said: "By the end of the signing, due to a mix-up the taxis did not wait and had driven off.
"They asked, 'anyone got a car to take us to the gig?' I replied, 'I will take you, I've got a Ford Focus down the road'".
'Wayne's World head banging'
Mr Wells said they left the record store with about 45 minutes to spare, with their management calling the band in the back of the car asking them where they were.
"I know Sheffield pretty well, so we took a few back streets", he said.
The photographer said Bohemian Rhapsody came on his car stereo "and they all started head banging in the back like in the film Wayne's World".
He told The Sheffield Star: "Everyone was singing the words and rocking out in the back of my car.
"I was looking in the rear view mirror thinking, 'is this actually happening?'"
Mr Wells added: "After getting to the arena car park, I told security that I had the band in the car. He just said, 'yeah, yeah', but the band then showed their AAA passes out of the window."
The band thanked him for getting them there with 15 minutes to spare, "gave hugs" and offered him a guest list place to the gig.
Mr Wells said he had friends who didn't believe the hype about his unusual Saturday night, so he posted the photo on social media.
He said: "I thought to myself, did that really happen? I had to pinch myself."
Public Enemy, founded by Flavor Flav and Chuck D, are considered one of the most influential hip-hop groups of all time and were inducted into the Rock and Roll Hall of Fame in 2013.