Rotherham Council commissioners 'not making a difference' to child safety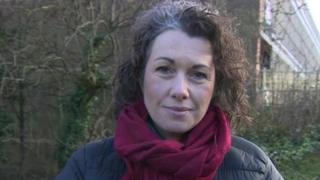 The commissioners brought in to run Rotherham Council have not made a difference to child protection, the town's Labour MP has claimed.
Sarah Champion's comments follow the closure of a children's home in October following a critical Ofsted inspection.
It found youths at Woodview Children's Home were not "kept safe". Another home in the town was also deemed inadequate.
The government said the commissioners, appointed after a damning report into child abuse, were making "progress".
The Woodview review found young people were poorly assessed and risks of them being exposed to child sexual exploitation were not always recognised.
Rotherham Council said it had already planned to close Woodview before the critical inspection and was conducting a review of care at all its children's homes.
Young people at Woodview were assessed by a specialist who found no evidence of sexual abuse, a spokesperson added.
'Not seeing changes'
Speaking to BBC Radio 5 live Investigates, Miss Champion said: "The only difference I've seen is when I'm reporting failings - the council's taking longer and longer to get back to me and deal with them.
"The commissioners aren't elected, they are not accountable to us. We are not seeing the changes on the ground."
She added: "I haven't got any assurances that the rest of the care homes that the council are paying for aren't also failing".
---
Read a synopsis of the key dates in the Rotherham abuse scandal
---
The commissioners were appointed by the government following the report by Professor Alexis Jay which found 1,400 youngsters had been sexually exploited in the town over a 16-year period.
His report said that girls as young as 11 were raped by "large numbers of male perpetrators" and outlined the "collective failures" of political, police and social care leadership over the first 12 years the inquiry covered.
A second report commissioned by Communities Secretary Eric Pickles said the authority was "not fit for purpose" and the council was taken over by a team of commissioners.
A government spokesman said: "The commissioners are making real progress working hard to turn the council and its children's services around so they regain the trust of the local community."