WWI Sheffield soldier's belongings are the 'best of its kind'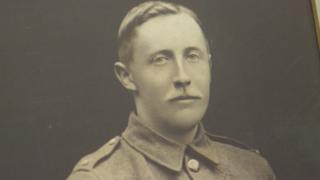 A collection of personal belongings from a soldier who died on a World War One battlefield has been described as the "best of its kind" by an expert.
Sgt Francis Stubbs from Sheffield served with The Royal Engineers and was killed in France on 26 September 1915.
His daughter, born after the 35-year-old's death, kept the items in a suitcase as a reminder of him.
Following her death, a WWI expert has been a custodian for the items after they were found in a house clearance.
Historian and collector David Empson, who has had the suitcase for 30 years, told BBC Look North: "It is such a unique archive to one individual person - it tells a complete story."
Before going to war, Sgt Stubbs was an electrical installations manager for Sheffield City Council and lived in the city.
Smashed by shellfire
As Sgt Stubbs lay dying, a comrade knelt beside him, took a handkerchief out and removed all the belongings from his pocket.
His pocket watch - smashed by shellfire - a blood-stained identity tag and a tobacco pipe were all passed on to his family.
The suitcase of belongings was kept intact by his wife before being passed down to their daughter who held them until she died in the 1980s.
A diary in the suitcase describes the "damp and difficult day" Sgt Stubbs went to Loos, France in July 1915.
He kept notes of all his comrades' names in case they were killed in action so he could write to their relatives.
Mr Empson said: "His wife never remarried. She found a suitcase to put them all away - to remember the husband that she hadn't been married to for very long."
He married his young wife in April, but was killed in September.
"It's absolutely the best of its kind. We have things like his last letter to his wife still on the pad where he wrote it, with his name still written in.
"She must have read it, with tears in her eyes I imagine."
If you would like to find out more about these and other stories then there is a free BBC interactive book called "World War One At Home"
To download this Ebook - compatible for use on iOS, Android and Kindle Fire tablets - and discover more about the home front of Britain and Ireland visit www.bbc.co.uk/ww1