Sheffield shipping container building plan approved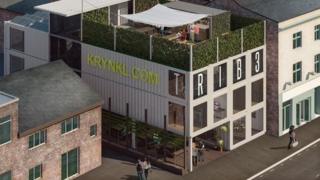 A £500,000 development for a bar, restaurant and gym using more than 20 second-hand shipping containers has been approved by planners in Sheffield.
Krynkl on Shalesmoor, near Kelham Island, in Sheffield is to see a three and four-storey building made entirely of steel containers stacked together.
It would be the city's first such building, said Sheffield City Council.
Work on the vacant site is to be completed by January, said the developers.
The steel containers would be "predominantly dark grey" and there were no sensitive historic buildings nearby, said the report to the council's planning and highway committee.
The site is in a mixed residential and commercial area on the inner ring road and previously housed a conservatory sales business.