Abuse claims against ex-Rotherham mayor Barry Dodson 'pack of lies'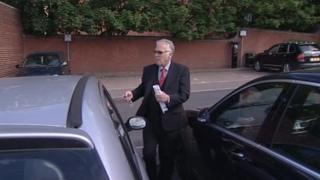 A former mayor of Rotherham has called allegations he sexually assaulted a teenager almost three decades ago a "pack of lies".
Barry Dodson, 67, is said to have attacked the victim in 1987 at Boston Castle, when she was 13-years-old.
Details of the alleged assault emerged after the woman, now 41, sent an email to Mr Dodson in June 2014, while he was mayor of the town.
Mr Dodson, of Cranworth Road, Rotherham, denies indecent assault.
He told his trial at Sheffield Crown Court he almost "dropped down dead" when he heard the complainant's police interview and was "dumbfounded" by the accusations.
When asked by defence barrister Louise Sweet if he had ever taken the woman to Boston Castle or sexually interfered with her, Mr Dodson replied: "No, definitely not."
'A load of rubbish'
The court previously heard the woman sent Mr Dodson an email, which said he was a "dirty pervert who loves children."
Mr Dodson told the jury though he had no reason to, he was going to the police and Rotherham Council about the message.
During cross-examination it was put to the defendant he "panicked" about the allegations and it was his past "catching up" with him.
Mr Dodson replied: "A load of rubbish."
Prosecutor Richard Butters asked: "So the accusations are a pack of lies, are they?"
"Yes they are. I wasn't there, it didn't happen," Mr Dodson said.
The trial continues.