Sheffield FC: Football's first club plans to go home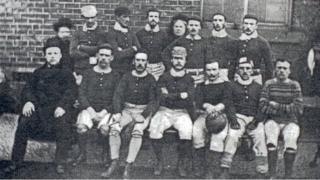 The world's oldest football club, Sheffield FC, has announced plans to return to the city.
The South Yorkshire club was founded in 1857 and played a key role in providing the rules of modern football.
It currently plays at Dronfield, in Derbyshire, but has announced fundraising plans for a new ground suitable for non-league football.
It intends to return to Olive Grove, where the club's founders played their first games of football.
Sheffield City Council has agreed for land to be leased, said the club.
The Olive Grove Sports ground is off Queens Road and is close to Bramall Lane, home of League One team Sheffield United.
Subject to consultation and planning applications, the club hopes to be in its new home for the start of the 2017-18 season.
•Sheffield FC was founded in 1857 by Nathaniel Creswick and William Prest
•The club was responsible for the first officially adopted set of rules and laws for the game
•It is recognised by FIFA and the FA as the world's first football club
Source: Sheffield FC
Richard Tims, Sheffield FC chairman, said the club had "played football without a permanent home and its own ground for more than 140 years".
"Now it's time to take the club back home to Olive Grove", he added.
Initially the club is to continue to use the Coach and Horses stadium at Dronfield.
Sheffield FC pioneered an accepted set of rules and it was under these rules the club played city rivals Hallam FC on 26 December 1860.
This is considered the oldest still-contested derby of any football code in the world.
Hallam FC was founded in 1860 and the club still plays at its original ground at Sandygate Road.