Rally to mark Battle of Orgreave 31st anniversary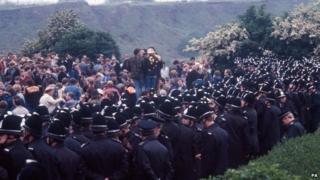 A rally has taken place to mark the 31st anniversary of violent clashes between miners and police officers during the Battle of Orgreave.
About 10,000 miners clashed with 5,000 police at Orgreave coking plant, near Rotherham, in one of the most violent episodes of the 1984-5 miners' strike.
Last week the police watchdog ruled out an investigation in to the handling of the events of 18 June 1984.
An MP said there was "deep concern" it had not recommended any further action.
Speaking before the rally started at 17:30 BST, Barbara Jackson of the Orgreave Truth and Justice Campaign (OTJC) said: "We want to say to people this campaign for justice for what happened at Orgreave is still relevant and we are still here and we are still fighting for justice.
"An injustice does not go away if it is not dealt with."
The Independent Police Complaints Commission (IPCC) said the passage of time meant allegations of assault and misconduct "could not be pursued".
In the House of Commons, Labour MP Helen Jones for Warrington North, a former shadow justice and home office minister, said: "There is deep concern the recent IPCC report into events at Orgreave recommended no further action despite finding evidence of serious criminality during and after those demonstrations."
Leader of the Commons Chris Grayling said: "The IPCC has looked at these issues, it has reached its conclusions and there I'm afraid I believe the matter should rest."
An early day motion has been signed by 48 MPs so far demanding a wider public inquiry into the policing of Orgreave and "the entire country" during the 1984-85 Miners' Strike.
The OTJC described the IPCC's decision as disappointing and have called for a "Hillsborough-style" public inquiry.