Simon Holdsworth death: Murder accused denies hiding weapon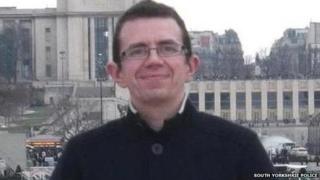 A factory worker accused of beating a colleague to death has denied concealing a metal bar and saying it would "be handy as a weapon".
Simon Holdsworth, 36, was attacked on 16 December 2013 as he made his way home from a shift at a manufacturing firm in Sheffield.
Shaun Wainwright, 46, of Dagnam Road, Arbourthorne, Sheffield, denies murder.
He told Teesside Crown Court he had a good relationship with Mr Holdsworth and a shared interest in fishing.
He said had been no aggression or grievance between the two of them and no confrontation or irritable behaviour.
"We discussed going fishing together quite a few times," he said.
Nicholas Rhodes QC, defending, asked him whether he attacked and killed Mr Holdsworth. He replied: "No, I did not".
Repeatedly hit
Mr Rhodes asked: "Did you do anything to bring about his murder?"
Mr Wainwright replied: "No, I didn't."
The jury heard Mr Wainwright has previous convictions for theft, harassment and assault and had been dismissed from a former job for "verbally assaulting" someone.
He admitted having a knife at work and leaving it in his car boot to use on fishing trips.
Mr Holdsworth suffered severe skull fractures and lacerations to the scalp. The court heard his body was found on playing fields at Rainbow Forge Primary School in Sheffield the day after the attack.
Earlier in the trial, jurors heard Mr Wainwright lay in wait for Mr Holdsworth after the pair finished work.
The court was told that he was seen hiding a piece of metal bar from work up his sleeve in the weeks leading up to his colleague's death.
On the night he was killed, Mr Holdsworth got off a bus and had just ended a mobile phone call as he entered the playing fields, where he was repeatedly hit with a bar or bat, the jury heard.
The two men worked together at Fluorocarbon Bakeware Systems (FBS), which makes non-stick coating for the baking industry.
The trial continues.