Traders at new Barnsley market complain of drug-taking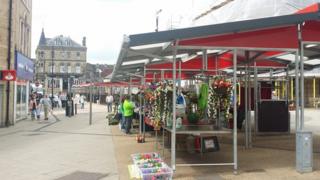 Traders at a new outdoor market in Barnsley have complained that anti-social behaviour and drug-taking are putting off shoppers.
It comes less than a year after the council revealed plans for a £41m town redevelopment, including significant changes to the markets, "the real heart of the town".
Stallholders said the problem centred around Peel Square public toilets.
The new stalls were opened in November while the main market is revamped.
But one stallholder said they had seen drug deals during daylight.
"About 30 people drink, swear and carry on. I've seen them sitting by the bank injecting themselves, and the language is appalling."
Another said: "I'd like to see it cleared so people can come to the stalls without feeling threatened.
"I've seen people pass drugs around and take drugs in front of us. Until they get moved, there's nothing we can do except try to keep trading.
'Bad kudos'
One shopper said: "It's not great kudos for the town, to say, 'Come to Barnsley and sit with the smackheads and the drinkers' - it has to be cleared very quickly."
The council agreed that there was "an issue with substance misuse" in the town.
The council said it was working with South Yorkshire Police and other agencies to solve the problem.
A spokesman said: "About three different groups are causing problems: drug addicts and drinkers who need help, younger people causing disorder, and petty offenders and shoplifters.
"We need to address the underlying problem of substance misuse."
Barnsley Council took over the £41m town redevelopment after plans had been on hold for a decade and a private developer could still not be found.