Future of Magna Science Adventure Centre to be reviewed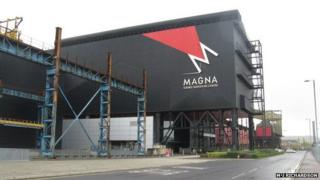 Consultants have been brought in to assess the future of a struggling tourist attraction in South Yorkshire.
Magna Science Adventure Centre owes Rotherham Council £440,000 in outstanding loans.
Accountants PwC will examine the park's five-year business plan to see whether it is financially viable.
It comes after Magna's trustees asked to increase its access to council cash from quarter of a million pounds to £350,000 a year.
The independent review will cost taxpayers £12,800 which the council said was "less than originally anticipated".
'Not cap in hand'
Magna's chief executive John Silker said it had not asked the council for any more loans and the business was moving forward.
"We have loans with [the council] and we have every intention of paying that back. We have not gone cap in hand to the council again.
"I'm going to private investors to see if we can get money to invest into Magna."
Magna opened on the former Templeborough steelworks in 2001 and gets 120,000 visitors a year.
It is run by the Magna Trust, a registered charity which does not allow it to go overdrawn.
The council, which is a trust member, granted Magna a 15-year loan of £300,000 in 2006.
It has also provided an annual £250,000 loan facility since 2008 after the site suffered setbacks during the recession. The facility was temporarily increased by £100,000 in January to pay staff salaries.
A cabinet meeting in February deferred a decision to increase Magna's access to council cash to £350,000 a year pending a review of its business plan.
The report is expected in the summer.