Sheffield Heavy Plant sculpture rebuild appeal launched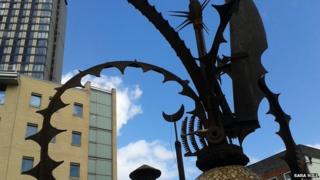 A crowdfunding campaign has been launched to rebuild a saved sculpture marking Sheffield's industrial heritage.
Heavy Plant, erected in 1988 in an Arundel Street car park, was due to be knocked down last year as part of redevelopment works.
It was dismantled and moved to Kelham Island Museum last August.
Campaigners said they needed to raise £15,000 to rebuild and relocate the artwork elsewhere in the city.
The 18ft (5.5m) high sculpture was built by artist David Kemp using scrap materials and debris from disused factories.
Sara Hill, who launched the initial campaign to save the sculpture last July, said she had been in talks with various groups and artists to rebuild and relocate the artwork.
"I visited David Kemp in his studio in Cornwall and it's been a privilege to get to know him and see more of his works," she said.
"He's given his blessing and support to two local artists to repair Heavy Plant and re-imagine it."
Scrap metal sculptor Jason Heppenstall and stonemason Andrew Vickers will work on the project, Ms Hill said.
"We've also got an engineer, Darren Bown, who'll be making it with them," she added.
Ms Hill said a new location for the sculpture was yet to be decided upon, but was exploring a number of options including Kelham.
Heavy Plant was due to be demolished to make room for Sheffield Hallam University student accommodation, with a Tesco supermarket on the ground floor.
After Tesco agreed to pay £5,000 in removal costs, it has since been kept in storage at the Kelham Island Museum.